News - Latest News & Events

/>
Latest News & Events
SORSA and IAFR CONGRESS 5 to 7 September 2025

[(IAFR) is International Association of Forensic Radiographers]
Find the flier here.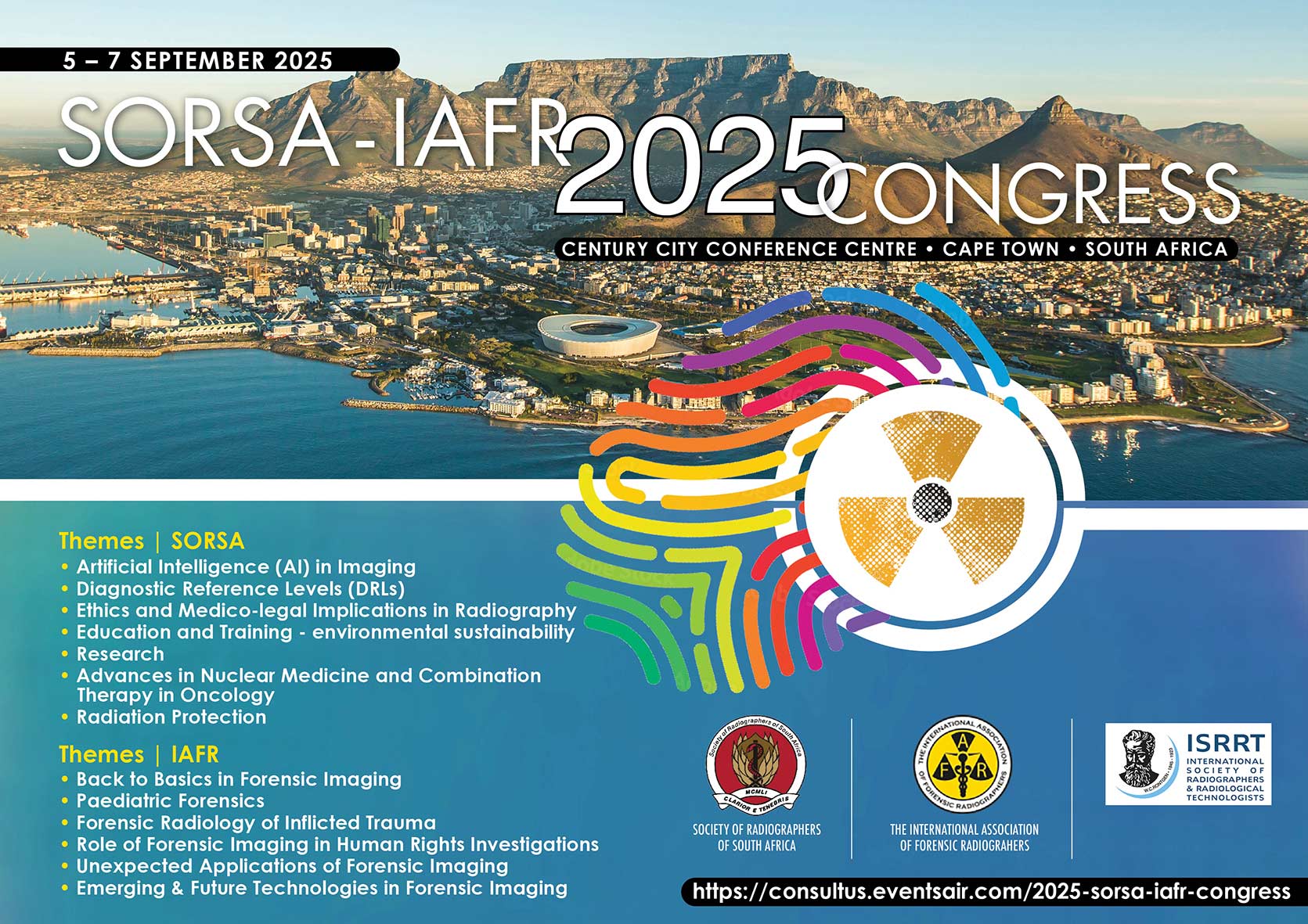 ---
Consensus statement regarding academic bullying and victimisation on clinical training and health care platforms.
Download document here.
---
Announcment of the CHESNEY AWARD Competition 2023
The closing date for submission of grant application is 30th October 2023. The funding decision will be announced by 31st November 2023.
Letter from ISRRT Director of Education @ https://www.isrrt.org/blog/isrrt-chesney-call-submission-2023
The form: https://www.isrrt.org/pdf/Chesney_Grant_Application_form.doc
---
Launch of the new GEMS provider and mobile app.
Find the posters here.
---
Memorandum of understanding between SORSA and IAFR (International Association of Forensic Radiographers)
Download the document HERE
---
Vacancy in Kimberley
An Occupational Health Clinic in Kimberley, Northern Cape has an opportunity for a qualified Diagnostic radiographer.
Position available from 1 July 2023. Mornings only position, no after hours or weekend work.
Requirements: -
National Diploma / Bachelor's degree in Diagnostic Radiography
Current registration with HPCSA
Reliable transport
Computer literacy
Please send CV to christinespangenberg@icloud.com
---
SAintS / SAFFIRE Congress 3-5 November 2023
More information on deadlines and venue
---
ISSRT World Congress 2024 Hongkong

Please book your date! for the ISRRT World Congress Hong Kong
Theme: Personalized Care in Medical Imaging and Radiation Therapy
⭐️Date: June 6-9, 2024
🏢Venue: Hong Kong Convention and Exhibition Center
Stay tuned for the official website! 🥳
Find the poster here for Facebook & Instagram QR-links
---
RECORDS OF PATIENTS: Responsibilities of Radiographers (2022-12-30)
Download the document
---
Society of Radiographers of South Africa (SORSA) supports exemption from load-shedding schedules for healthcare facilities
Read letter by Dr FI Peer (D.Tech: Rad) SORSA - Public Relations Officer
---
Notice for membership fees 2023
Read letter from the president
---
Notice of constitutional amendment to add an affiliate membership category
Read here
---
SORSA National Newsletter 2022
Download
---
Scope of practice for Radiation Therapy, Nuclear Medicine Radiography and Diagnostic Radiography
Read documents:
Radiation Therapy
Nuclear Medicine (Radiography)
Diagnostic Radiography
---
Direct sponsorships are unethical
The South African Medical Technology Industry Association (SAMED) views direct sponsorships as unethical as it may compromise a Health Care Professional's independent clinical judgement and thus impact patient care.
Read letter from SAMED
---
Summary of the cyber crimes act
Read
---
Contrast media administration by radiographers
"During a CT procedure Radiographers are NOT, according to the enabling framework, to cannulate and are NOT to administer contrast media"
Read
---
Ethics and governance of artificial intelligence for health: WHO guidance
Download pdf document
---
The South African Radiographer, the peer-reviewed journal of SORSA now has a Digital Object Identifier (DOI)
More information
Summary of CrossRef
---
SORSA is now a CPD Accreditor
---
Attention colleagues performing obstetrics ultrasound, kindly find notice for your attention.
Dear colleagues
The ultrasound examination offered by the HPCSA Professional Board for Radiography and Clinical Technology (PBRCT) includes obstetrics, gynaecology, abdomen, small parts and deep vein thrombosis (DVT). Of concern it that the examination will exclude those radiographers who provide obstetric ultrasound services at district level health facilities. SORSA therefore requested the HPCSA Professional Board for Radiography and Clinical Technology (PBRCT) to urgently consider the negative impact this exclusion would have on service delivery of obstetric ultrasound to the general public.
Read more
---
---
WHO-ISRRT anti-smoking awareness campaign
As radiographers we have first hand experiences of the impact that smoking has on the health of individuals. In keeping with the theory of behaviour change and professionalism, radiographers should ideally assume a role modelling position by advocating for the elimination of smoking habits among our patients and colleagues. The aim of this campaign is to support the WHO Framework Convention on Tobacco Control (WHO FCTC) by educating and resourcing institutions offering radiography programmes with the view of reducing the impact of tobacco use in the profession as a whole.
Read more
---
COVID-19
ISRRT Response Document - Appropriate and safe use of Medical Imaging and Radiation Therapy with infection control measures considered in addition to standard radiation protection procedures.
ISRRT Board of Management approved April 2020
Based on Input to the World Heath Authority (WHO) Non-Governmental Organizations (NGOs) meeting facing COVID-19 held March 27th 2020 and development of various WHO/IAEA Technical documents including 'WHO-Rapid Advice Clinical Guide on appropriate use of radiological imaging in COVID-19' and IAEA/WHO Technical brief for Nuclear Medicine in COVID-19.
Read more